Mendelssohn
Barry Collett makes a welcome return to the Society to extol the brilliant music of Felix Mendelssohn (1809-1847). Barry feels that, despite proving his brilliance in so many genres of music, Mendelssohn is given less respect than his due from some critics and in his talk he will redress the balance with many examples of Mendelssohn's musical genius.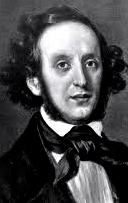 The Goldsmith Lecture
---
Playlist
| Title | Artist(s) | Label |
| --- | --- | --- |
| Midsummer Night's Dream Overture | LSO/Previn | EMI |
| Violin Sonata in F | Nomus Duo | Naxos |
| Prelude and Fugue in E minor | Benjamin Frith | Naxos |
| Perpetuum Mobile in C | Benjamin Frith | Naxos |
| Elijah | Massed Forces / McCreesh | Signum |
| Ave Maria | Corydon Singers/Best | Hyperion |
| Piano Trio No. 2 | Florestan Trio | Hyperion |
| Die Erste Walpurgisnacht | Gulbenkian Choir and Orch./Corboz | Warner/Apex |
---
Appreciation by Neil Roberts
This year's Goldsmith Lecture was a pure delight. Another one of the locals, Barry Collett, stepped into the limelight and delivered a salutary, thoughtful but also witty talk concerning the way Mendelsohn's reputation has gone through many heights and troughs. On occasions in the past the Society has listened to pleas for peripheral and even unknown composers to be recognised as front rank and mostly one has come away, to put it gently, unconvinced. This was obviously rather different, for Mendelsohn has been and still is often performed, but Barry argued that in a long musical career he had been increasingly bewildered that there was still a degree of condescension in some quarters towards his music. Well, he made a cast-iron case that this was utterly wrong and that the composer is one of greatest. Two highlights for me were music I had never heard, the choral Walpurgisnacht and the piano Preludes and paradoxically the case was made all the stronger in the way that Barry during the evening in his typically slightly hesitating manner did not attempt to suggest that every note was pure gold! A memorable occasion.
---
Images