George Frideric Handel
Inventive Instrumentation and Orchestral Opulence
Simon Mold, a noted local composer, presents a fresh approach to Handel, concentrating on his writing for instruments. Simon describes Handel's masterly approach to writing for instruments as "a miracle of subtlety and variety". A wonderful contribution to the Christmas season with sherry and mince pies on offer.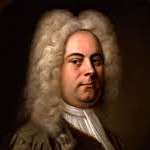 ---
Playlist
| Title | Artist(s) | Label | Catalogue |
| --- | --- | --- | --- |
| Alto aria "Virgam virtutis" from Dixit Dominus | (†) Andreas Scholl | Harmonia Mundi | 902041 |
| Part of the Allegro movement from Sonata for Violin and Continuo, HWV 371 | Performed live by Tom and Matthew | | |
| Chorus: "From the Censer" from the oratorio Solomon | Gabrieli Consort and Players/Paul McCreesh. | Archiv | 459 688-2 |
| Andante from Trio Sonata in C minor, Op 2 no 1 | Performed live by Simon, Tom and Matthew | | |
| Mad scene from the opera "Orlando" | Bejun Mehta (countertenor), Rosemary Joshua (soprano), Freiburger Barockorchester Jacobs | Harmonia Mundi - Musique d'Abord | HMA1902077 |
| Accompanied recitative and arioso: "Fronde tenere…..Ombra mai fu" from the opera Serse (Xerxes) | Performed live by Tom and Matthew | | |
| Overture to revised version of the opera Il Pastor Fido | Il Complesso Barocco/Alan Curtis | Virgin Classics | 5099972311929 |
| Recitative and aria: "Sweet flow the strains…..With honour let desert be crowned" from the oratorio Judas Maccabaeus | Ryland Davies (tenor), English Chamber Orchestra/Mackerras | Archiv | B00000130B |
| "How Excellent thy name, O Lord" – opening chorus from the oratorio Saul | (†) Paul McCreesh | Archiv | 000209802 |
| Aria: "Hark, hark, he strikes the golden lyre" from the oratorio Alexander Balus | Nuria Rial (soprano) with the Artemandoline Baroque Ensemble | Deutsche Harmonia Mundi | B00QXYWBG8 |
| "Glory to God" – chorus from the oratorio Joshua | Maulbronner Kammerchor/Jürgen Budday | Digital Download | K&K Verlanganstalt |
| | |
| --- | --- |
| † | The version Simon played is not available on CD. Details of a typical recording are shown. |
| ‡ | Simon played the audio from a YouTube promo video of the recent Glyndebourne DVD. The Paul McCreesh is a good version on CD. |
---
Appreciation by John Brooks
What a marvellous and entertaining evening this was.
Simon concentrated on how Handel constructed his music and his approach to his writing for instruments. With the help of his two young friends Tom and Matthew we had some live examples, including a lovely rendering of Handel's Largo.
With recordings of some lively choruses from Solomon, Saul, and Joshua Simon was able to demonstrate how Handel with his lively invention was able to retain his popularity over 40 years of changing and fashion trends.
Some years ago I can remember Handel was one of the most popular composers listed by members. I am sure he will be again after this very enjoyable programme.
---
Images
Simon favoured us with a splendid Christmas jumper!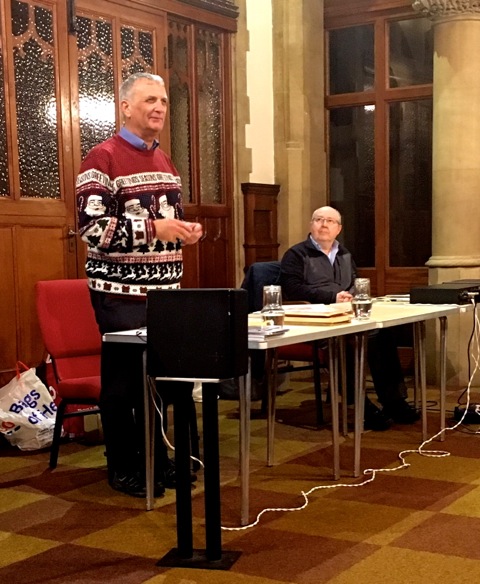 Simon, Tom and Matthew play the C minor Trio Sonata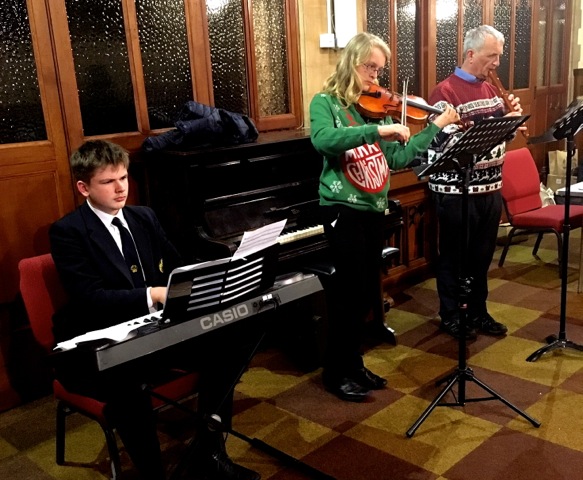 Such a high turnout that I had to sit in the second row