French Composers
Roy Howat is a pianist and musicologist specialising in French music. A research Fellow of the Royal Academy of Music and Royal Conservatoire Scotland, Prof. Howat will guide us through some fascinating old recorded performances of Debussy (pictured), Fauré and Ravel, which the composers actually played, liked or helped to prepare. This renowned musician will also play some music live for us.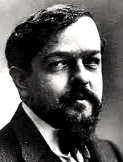 The Jenny Roberts Lecture
---
Playlist
| Composer | Work | Performer(s) |
| --- | --- | --- |
| Claude Debussy | 'Fêtes' from Nocturnes | D-E Inghelbrecht, French Nat. Radio Orchestra, 1953 |
| Claude Debussy | 'Fêtes' from Nocturnes | C-M Giulini, Philharmonia, 1963 |
| Debussy | 'Green' & 'Il pleure dans mon cœur' (Ariettes oubliées, Verlaine) | Mary Garden (sop.) with Debussy on piano, 1904 |
| Francis Poulenc | Mvts. 2 & 3 from Trio for piano, oboe & bassoon | Poulenc on piano, 1928 |
| Debussy | 'La flûte de Pan' (Chansons de Bilitis, Pierre Louÿs) | Jane Bathori, mezzo & piano accompaniment, 1928 |
| Gabriel Fauré | 3rd Nocturne | Welte piano roll recorded by Fauré in summer 1912, replay by Denis Hall, 2014, on Steinway B |
| Debussy | 'La Cathédrale engloutie' (Preludes) | Welte piano roll recorded by Debussy in summer 1912, replay by Ken Caswell (Austin TX), 1990s, on Feurich upright |
| Debussy | 'Poissons d'or' (Images series 2) | Ricardo Viñes (the piece's dedicatee), 1930 |
| Poulenc | Extract from L'Histoire de Babar (Jean de Brunhoff) | Noël Coward & Poulenc, ca 1950s, unissued commercial recording |
---
Appreciation by Ron Mitchell
For me, as a (lapsed) pianist, this was an absolute treat, a chance to hear recordings of French music, mostly piano, played either by the composers themselves or by their close friends or associates. All the while informed by expert and genial commentary from one of the top scholars in this field.
To set out his case for the 'Frenchness' of French performance Professor Roy Howat began with two renditions of Fêtes from Debussy's Nocturnes, from D.E. Inghelbrecht with the French National Radio Orchestra in 1953, and Carlo-Maria Giulini in 1963. In the Inghelbrecht Roy pointed to the French instrumental timbres, e.g. the oboes 'played through a straw' and the clarity of the texture through which details can be heard that might be obscured in more lush performances. 'You can', he said, 'almost smell the garlic and the cheese!'
For every excerpt that followed Roy had a story to tell, illustrative either of the music itself or of the human relations of composer and performer. One composer (Ravel or Poulenc?), present in the recording studio and asked for his opinion on the piece that had just been played, said 'Hmm. Play it again.' After the second run through the conductor asked 'Was that better?', to which the composer replied 'Oh, it was lovely both times. I just wanted to hear it again!'
It was good to hear archive performances by people either previously unknown to me, or just names: Aberdeen-born soprano Mary Garden, hitherto for me just a mention in MacDiarmid's 'A Drunk Man Looks at the Thistle'; Jane Bathori, a 'highly intelligent' mezzo-soprano who accompanied herself on piano; and Ricardo Viñes, the Spanish pianist who gave the premieres of many works by his close friends Ravel and Debussy, including 'Poissons d'Or', which we heard him play.
Finally I should mention how Roy several times leapt from his place to our piano to illustrate something, such as how French rubato was like a stretched piece of elastic suddenly released, or the prevalence of seventh chords in Ravel and Debussy.
All in all a splendid evening, entertaining and informative in equal measure, which I thoroughly enjoyed.
---
Images
A rapt audience for Roy Howat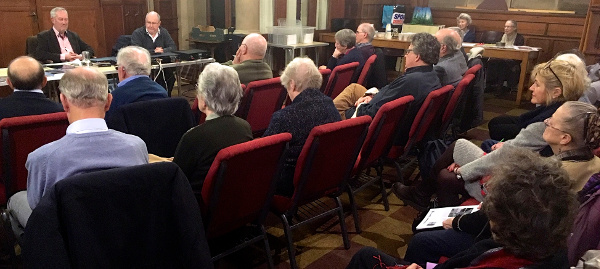 Roy makes a point at the piano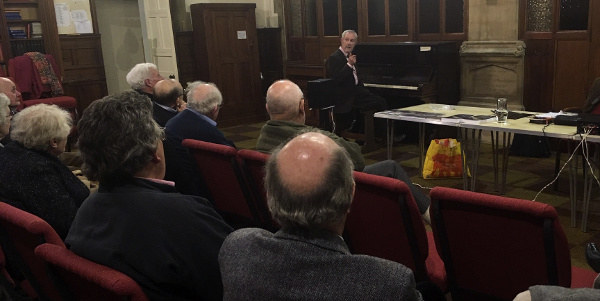 Dans l'ensemble, une très bonne soirée!