Tuesday 8th October
John Brooks
The Other Side of Sullivan
By the time Sullivan died in 1900, he had been accused by high-minded Victorian critics of having wasted his talents writing comic operas with W. S. Gilbert. Today the Sullivan Society has set out to restore Sullivan's reputation with a number of new recordings of his more serious works.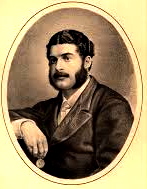 Playlist
| Title | Artist(s) | Label | Catalogue |
| --- | --- | --- | --- |
| Tempest Prelude to Act 4, Macbeth Prelude to Act 2 | BBC Concert Orchestra, John Andrews | Dutton Epoch | 2CDLX7331 |
| Ariel's songs 'Come Unto These Yellow Sands', 'Full Fathom Five' | BBC Concert Orchestra, John Andrews, soloist Mary Bevan | Dutton Epoch | 2CDLX7331 |
| Sullivan Songs. 'Orpheus With His Lute' and 'Sweethearts' | David Owen Norris piano, soloists Mary Bevan, Ashley Riches | Chandos | CHAN 10935(2) |
| Symphony in E major 'Irish' | BBC Philharmonic, Richard Hickox | Chandos | CHAN 9859. |
| Cello Concerto | BBC Symphony Orchestra, Charles Mackerras, Cello Paul Watkins. | BBC Music | Vol 9 No 7 |
| The Light Of The World. 'Tell Ye the Daughter of Zion', 'At the Sepulchre', 'Morning', 'Lord Why Hidest thy Face', 'If Thou Had'st Known', 'Hosanna to the Son of David' | BBC Concert Orchestra, BBC Symphony Chorus, John Andrews | Dutton Epoch | 2CDlX 7356 |
| Ivanhoe. Chorus Plantegenesta, 'Her Southern Splendour', 'Like The Syrian Moon', 'Lord of Our Chosen Race' | BBC National Orchestra of Wales, David Lloyd -Jones | Chandos | CHAN10578(3) |
| The Golden Legend. 'It Is the Sea', 'The Night Is Calm And Cloudless' | New London Orchestra, The London Chorus, Ronald Corp. Soloists Mark Wilde, Janice Watson. | Hyperion | CDA67280 |
---
Appreciation by Neil Roberts
In his appreciation Neil recounted how he had nearly been put off Gilbert and Sullivan for life by the horrendous productions at the school where he had first taught. It was John who had persuaded him to listen again, opening his ears to how fine the music of Sullivan was. This evening John had convinced him to explore the serious music as well. Alhough, said Neil, he 'drew the line' at 'Ivanhoe', at which he thought he detected a possible nod of agreement from John!
---
Images
John Brooks taking Sullivan seriously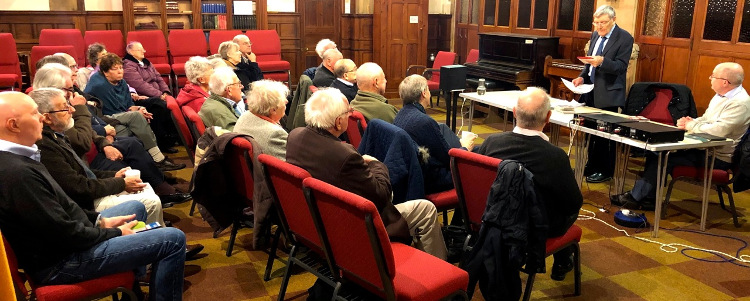 A smile from John when Neil 'draws the line' at Ivanhoe!