Tuesday 10th December
Robert Calow
The Versatile Clarinet
"If only we had Clarinets!" Mozart wrote to his father in 1778. Nearly 250 years later the orchestral woodwind section's youngest member has developed into the most versatile of instruments. Robert Calow's talk will not only explore the clarinet through the classical repertoire, jazz and ethnic styles but also the different instruments of the clarinet family.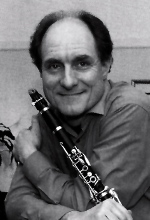 ---
Appreciation by Ron Mitchell
"If only we had clarinets..." said Mozart. Well, we had abundance of them at Robert Calow's superb survey of the instrument. Quite a sight they were too, standing up on the tables or (the big ones) on the floor before us, creating a buzz of interest even before the talk began. Little ones, medium-size ones and a couple of huge ones, the latter carefully guarded by Robert's colleague Debbie Lee. And not only for show. Debbie and Robert played their instruments for us so that we could hear their qualities for ourselves.
Robert's talk was ingeniously constructed. The first half took us through the genesis and evolution of the instrument from the turn of the 18th to the 20th century, illustrated with appropriate contemporary classical excerpts from Mozart, Weber ... through to Rachmaninoff. The second half was a romp through other musical genres demonstrating the clarinet's huge versatility: jazz, klezmer, gypsy, Indian classical and even Bollywood. Though my favourite was hearing the incomparable Jack Brymer in Rachmaninoff's second symphony playing what I now know is the 'Rolls-Royce of clarinets', the Boosey and Hawkes Symphony 1010. (†)
We did learn a lot. Robert took an instrument to pieces and put it back together again; he showed off the key mechanism and described the keypads; he explained how the tone is generated in the cylindrical bore creating a standing wave that is reflected up and down inside; he demonstrated how the player's embouchure can create the characteristic swelling and diminution of the sound.
It added another dimension to actually hear those instruments played by Debbie and Robert, sometimes in duet. Altogether a very stimulating and informative evening.
See below for listings of both the live and recorded music that we heard.
---
† Robert Calow adds: "In my view, as a British clarinettist, the B & H Symphony 1010 clarinet IS the pinnacle of clarinet making—but the French (Buffet), Americans (Selmer) and Japanese (Yamaha) may not see it that way! Sadly there are no British clarinets made any more. Jack Brymer was really the last pro to be playing on them in the 1970/80s.
"Lots of us still play on the Symphony 1010 and the next in line down, the Imperial 926 (my clarinet). The secret to the sound is the wider bore, which in Mr Brymer's hands gave us the definitive British clarinet sound."
---
First Half
Composer / Artist(s)
Title
CLASSICAL
Mozart
Clarinet Concerto Mvt II Adagio
Mozart
Serenade in B♭ 'Gran Partita' Menuetto 1 Trio
Weber
Concertino for Clarinet & Orchestra
Beethoven
Symphony No.6 (excerpts)
Berlioz
Symphonie Fantastique Mvt V (beginning)
Mendelssohn
Konzertstuck Duo Op.114 Mvt I
Brahms
Sonata No.2 in E♭ Mvt I (excerpt)
Rachmaninoff
Symphony No.2 Mvt III Adagio (beginning)
John Corigliano
Clarinet Concerto Mvt I (excerpt)
Second Half
Composer / Artist(s)
Title
JAZZ
George Gershwin
Rhapsody in Blue (beginning)
Larry Shields
Clarinet Marmalade (excerpt)
Buster Riley
Man With Horn Goes Beserk! (excerpt)
Artie Shaw
September Song (excerpt)
Peanuts Huckoo
Stealin' Apples (excerpt)
Acker Bilk
Stranger on the Shore
KLEZMER
Mahler
Symphony No.1 Mvt III (excerpt)
Andy Statman
Another Glass of Wine (excerpt)
GYPSY—ROMANI
Erno Kallai Kiss
Gypsy Romance & Doina (excerpt)
INDIAN CLASSICAL
Abdul Aziz Khan
Dhun (excerpt)
BOLLYWOOD
Master Ebrahim
May you be by my side for life my love (excerpt)
AVANT GARDE
The Clarinet Trio
Collective No.9 (1-4) (excerpt)
FINALE
Benny Goodman and His Band
Jingle Bells (excerpt)
Live Performance
Instrument
Composer
Piece
E♭ Clarinet
Ravel
Bolero
C Clarinet
Berlioz
Symphonie Fantastique (theme Mvt IV March to the Scaffold)
A Clarinet
Mendelssohn
Hebrides Overture (Duet)
E♭ Alto Clarinet
Mozart
Var II from Theme & Variations 'Gran Partita' K361 (for Basset Horn in F)
B♭ Bass Clarinet
Tchaikovsky
Dance of the Sugar Plum Fairy, The Nutcracker (Duet)
E♭ Contra Alto Clarinet
Saint Saens
The Elephant (Carnival of the Animals) Debbie only
Note: Robert's bass goes down to bottom E♭ and Debbie's down to bottom C.
Images