Tuesday 11th February
Malcolm Goldring
Dvořák
How many of us have heard Dvořák's early symphonies - Number 1 in C minor [1865], 2 in B-flat major [also 1865] or 3 in E-flat major [1873]? Malcolm Goldring explores a rich treasure-trove of delights that have always fascinated him!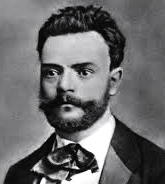 The Tomkins Lecture
---
Appreciation by Neil Crutchley
The first three symphonies of Dvořák are unaccountably neglected. They get the occasional recording, but live performances are almost non-existent, so it was particularly interesting to those of us who enjoy these attractive works to hear so enthusiastic a champion as Malcolm Goldring guide us through them. His talk took the symphonies in chronological order and he very skilfully pointed out their many virtues and occasionally their minor flaws. This was done with great flair and a practical musician's insight; giving us tips on what special features to listen for and comparing them to each other and relating them to his later compositional style. By the time we were listening to the impressive 3rd Symphony I suspect that most of the audience was of the opinion voiced by Malcolm at the beginning of his presentation: "Why on earth aren't these works better known?"
Malcolm's talk was this year's Tomkins Lecture, given in memory of the society's founder and first chairman Derek Tomkins. It was in 1947 that Derek, a young man of twenty-four came to Leicester to work for the Norwich Union. The following year he put an advertisement in the Leicester Mercury asking to meet anyone who was interested in forming a gramophone society. The response was encouraging and within a few years the Leicester Gramophone Society under Derek's guidance was so successful that it was featured on the BBC Third Programme. Derek later became the society's president and remained a member and loyal supporter until his death in 1994. I knew Derek for the last twenty-five years of his life and I'm certain that as a champion of less well-known music, he would have been delighted that this outstanding talk was given in his name.
Playlist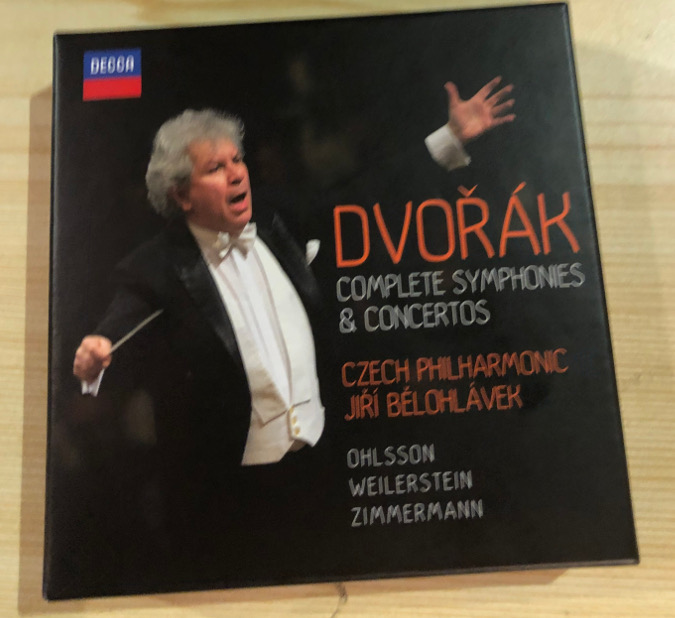 All of Malcolm's illustrations were from this box of the complete Dvořák symphonies and concertos on Decca 478 6757.
It's available for about £20 on Amazon or a bit more from Presto Classical
Images

The no doubt interesting first half which your webmaster missed, stuck in traffic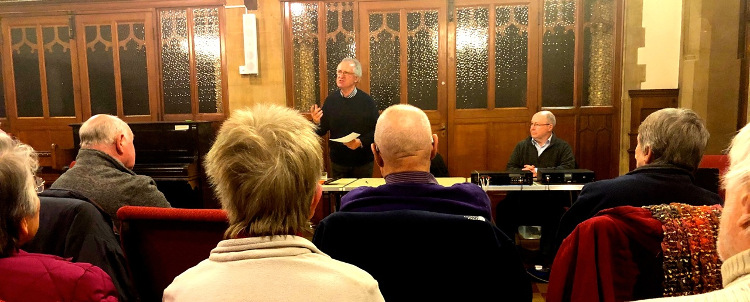 Malcolm makes the case for Dvořák's early symphonies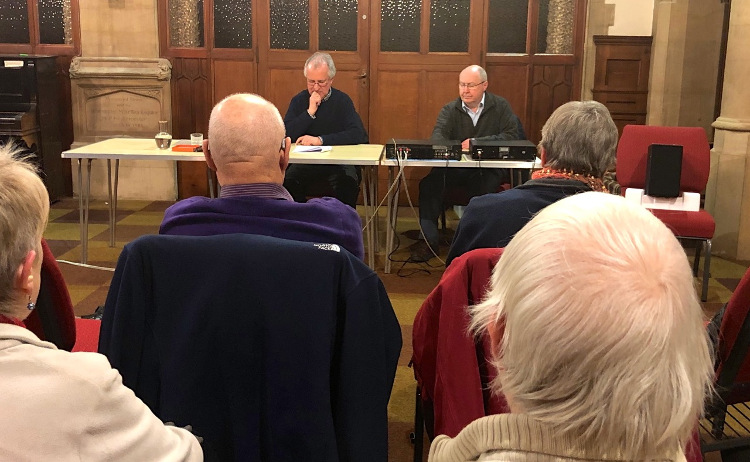 Malcolm and David Saunders at the table, engrossed in Dvořák's music